I televisori Samsung The Frame sono una linea di televisori in stile foto. I televisori hanno sovrapposizioni che sono montate sul televisore e imitano la cornice dell'immagine. Quando la TV mostra un'immagine statica dalla galleria, sembra che un'immagine sia appesa al muro.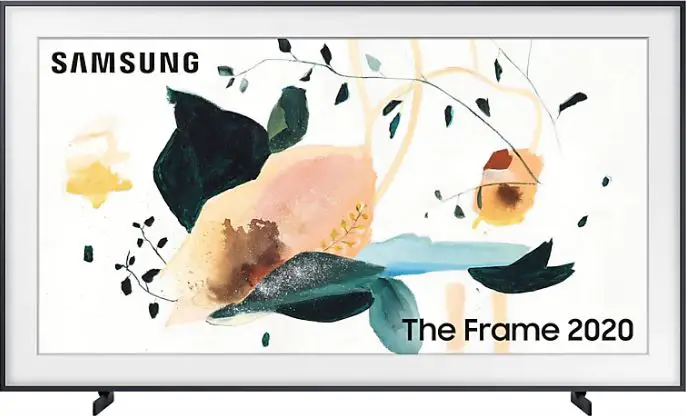 Nel 2020, i modelli TV sono disponibili per il Nord America. Europa ItaliaQE75LS03TAUXZT, QE65LS03TAUXZT, QE55LS03TAUXZT QE43LS03TAUXZT, QE32LS03TAUXZT
Specifiche tecniche per i televisori Frame 2020
Le specifiche dettagliate sono riportate nella tabella, è disponibile per la visualizzazione alla fine dell'articolo. Ma se consideriamo i parametri tecnici, i televisori nel 2020 hanno ricevuto nuovi schermi. Samsung ha lanciato la produzione di nuovi schermi QLED con una migliore riproduzione del colore attraverso l'uso della retroilluminazione con due tipi di LED. Si noti inoltre che il numero di modelli ampliati nel 2020 ha aggiunto un modello con uno schermo di 32 pollici. Ma la TV ha 32 pollici, uno schermo con risoluzione Full HD e un frame rate massimo di 60 al secondo. I televisori con schermi di dimensioni 43 e superiori supportano un frame rate di 120 al secondo.
Differenze tra i televisori The Frame 2020 vs The Frame 2019
Oltre alle schermate, non ci sono cambiamenti speciali nei parametri tecnici. Il numero di porte USB è stato ridotto, ora ce ne sono solo due, nei televisori 2020. Porta HDMI standard 2.0. I TV Frame sono progettati per fungere da elemento decorativo e TV. E secondo l'idea di Samsung, le nuove innovazioni tecniche sono più appropriate nei televisori QLED di formato normale. Nonostante il 2020, si tratta di nuovi schermi e di un nuovo livello di suono sulla TV.
Specifiche dettagliate dei televisori The Frame 2020 vs The Frame 2019.
|   | The Frame 2020 only 32LS03T | The Frame 2020 43LS03T 50LS03T | The Frame 2020 | The Frame 2019 |
| --- | --- | --- | --- | --- |
| | | | | |
| screen | | | | |
| Screen Size | 32 | 43, 50 | 55, 65 | 43, 49, 55, 65 |
| Style | Flat Panel | Flat Panel | Flat Panel | Flat Panel |
| Resolution | 1,920 x 1,080 | 3,840 x 2,160 | 3,840 x 2,160 | 3,840 x 2,160 |
| screen bit | 10bit (8bit+FRC) | 10bit (8bit+FRC) | 10bit (8bit+FRC) | 10bit (8bit+FRC) |
| type screnn | Quantum Dot | Quantum Dot | Quantum Dot | Quantum Dot |
| screen technology | VA | VA | VA | VA |
| Backlighting | N/A | Dual LED EDGE LED | Dual LED EDGE LED | EDGE |
| Dimming Technology | N/A | N/A | N/A | N/A |
| Stand Type (Color) | CHARCOAL BLACK | CHARCOAL BLACK | CHARCOAL BLACK | CHARCOAL BLACK |
| Bezel Width | Slim | Slim | Slim | Slim |
| Video | | | | |
| Motion Rate | 60 | 120 | 240 | 240 |
| refresh rate | 60 | 120 | 120 | 120 |
| Color | 100% Color Volume with Quantum Dot, PurColor | 100% Color Volume with Quantum Dot | 100% Color Volume with Quantum Dot | 100% Color Volume with Quantum Dot |
| HDR (High-Dynamic Range) | HDR | Quantum HDR 4x | Quantum HDR 4x | Quantum HDR 4x |
| Picture Engine | Quantum Processor 4K | Quantum Processor 4K | Quantum Processor 4K | Quantum Processor 4K |
| Audio | | | | |
| Dolby | Yes | Yes | Yes | Yes |
| Sound Output | 20W | 20W | 40W | 40W |
| Woofer | No | No | Yes | Yes |
| Speaker Type | 2CH | 2CH | 2.2CH | 2.2CH |
| Object Tracking Sound | No | No | No | No |
| Q-Symphony | No | No | No | No |
| Multiroom Link | Yes | Yes | Yes | Yes |
| Features | | | | |
| OS | Tizen 5.5 | Tizen 5.5 | Tizen 5.5 | Tizen 5.0 |
| Wi-Fi | Yes | Yes | Yes | Yes |
| Bluetooth | Yes | Yes | Yes | Yes |
| Smart Hub | Yes (incl. Sports, Music and TV Plus) | Yes (incl. Sports, Music and TV Plus) | Yes (incl. Sports, Music and TV Plus) | Yes (incl. Sports, Music and TV Plus) |
| Bixby | Yes | Yes | Yes | Yes |
| Digital Clean View | Yes | Yes | Yes | Yes |
| Ultra Black | No | No | No | No |
| ConnectShare | Yes | Yes | Yes | Yes |
| Closed Captioning | Yes | Yes | Yes | Yes |
| Game Mode | Yes | Yes | Yes | Yes |
| Eco Sensor | Yes | Yes | Yes | Yes |
| Mobile to TV - Mirroring, DLNA | Yes | Yes | Yes | Yes |
| Google Assistant | Yes | Yes | Yes | Yes |
| Alexa | Yes | Yes | Yes | Yes |
| Auto Channel Search | Yes | Yes | Yes | Yes |
| InstaPort S (HDMI Quick Switch) | No | No | No | No |
| Channel Guide | Yes | Yes | Yes | Yes |
| Ambient Mode | Yes | Yes | Yes | Yes |
| Auto Power Off | Yes | Yes | Yes | Yes |
| AI Technology | ? | ? | ? | ? |
| Apps Platform | Smart TV with Bixby Voice, Apps and Full Web Browser | Smart TV with Bixby Voice, Apps and Full Web Browser | Smart TV with Bixby Voice, Apps and Full Web Browser | Smart TV with Bixby Voice, Apps and Full Web Browser |
| Auto Motion Plus | No | No | No | No |
| Embedded POP | No | No | No | No |
| Anynet+ (HDMI-CEC) | No | No | No | No |
| V-Chip | Yes | Yes | Yes | Yes |
| TV to Mobile - Mirroring | Yes | Yes | Yes | Yes |
| USB HID Support | Yes | Yes | Yes | Yes |
| AI Upscale | No | Yes | Yes | Yes |
| Easy Pairing | No | No | No | No |
| Inputs & Outputs | | | | |
| HDMI | 2 | 4 | 4 | 4 |
| USB | 2 | 2 | 2 | 3 |
| Ethernet | Yes | Yes | Yes | Yes |
| RF In (Terrestrial/Cable | Yes | Yes | Yes | Yes |
| RF In (Satellite Input) | Yes Europe, No US | Yes Europe, No US | Yes Europe, No US | Yes Europe, No US |
| Digital Audio Out (Optical) | Yes | Yes | Yes | Yes |
| Audio Return Channel Support | No | Yes | Yes | Yes |
| One Connect | Yes | Yes | Yes | Yes |
| Samsung OneRemote | Yes | Yes | Yes | Yes |
| System | | | | |
| Digital Broadcasting | ATSC/ClearQAM US, DVB Europe | ATSC/ClearQAM US, DVB Europe | ATSC/ClearQAM US, DVB Europe | ATSC/ClearQAM US, DVB Europe |
| Analog Tuner | Yes | Yes | Yes | Yes |
| Accessories | | | | |
| Remote control | TM2050A(White) | TM2050A(White) | TM2050A(White) | TM1950C |