Nella pubblicità della Samsung The Sero 2020 concettualmente nuova TV, l'attenzione principale è rivolta al fatto che la TV può ruotare di 90 gradi da sola. E accettare la posizione standard come una volta o verticale, che è più tipica per gli smartphone moderni.
Cos'è The Sero TV
Sapevi che questo televisore ha una dimensione di soli 43 pollici e in effetti è una versione semplificata di un televisore standard con un set minimo di funzionalità. Il compito principale di The Sero TV è duplicare lo schermo del tuo smartphone sul grande schermo TV, The Sero funziona con dispositivi mobili iPhone, iPad e con dispositivi con sistema operativo Android.
Il motore elettrico incorporato può ruotare la TV di 90 gradi. Inoltre, puoi acquistare le ruote e rendere la tua TV Sero facile da spostare.
Caratteristiche Samsung The Sero
Sero TV non ha una porta LAN (Ethernet), può connettersi a Internet solo tramite WiFi. Pertanto, se decidi di acquistare una tale TV, dovresti avere un buon router WiFi. Per il Nord America, la TV ha una porta antenna, 3 porte HDMI, una delle porte supporta eARC e due porte USB. Le porte USB sono uno standard a 0,5 A, il secondo 1 A supporta dispositivi ad alta intensità energetica, come dischi rigidi esterni. Non ci sono più porte sulla TV. In alcuni paesi, come l'Europa, la TV ha 4 porte HDMI. Se si prevede di trasmettere l'audio a altoparlanti esterni, è possibile utilizzare solo la porta HDMI con eARC. Alcuni utenti segnalano un funzionamento errato con alcuni modelli di smartphone. Ma Samsung avverte onestamente questo sul sito.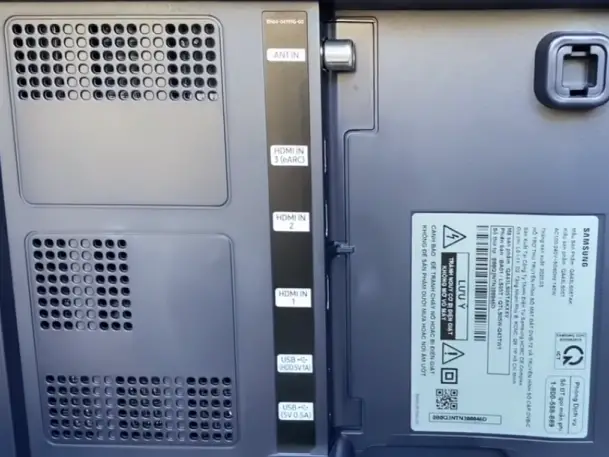 Lo schermo Sero TV supporta 60 fotogrammi al secondo, ha la retroilluminazione EDGE e l'oscuramento locale Supreme UHD Dimming (oscuramento della maggior parte dello schermo, il livello iniziale). A giudicare dalla mancanza di retroilluminazione a doppio LED, lo schermo è della generazione precedente, ma come molti utenti notano nel 2020, i TV QLED economici con doppio LED sono peggiori dei vecchi schermi. Le specifiche tecniche del televisore corrispondono al Q60T.
Quanto costa The Sero e per cosa paghiamo
Il costo della TV The Sero 1999 $ negli Stati Uniti, in Europa 1599 Euro. In Europa, una TV costa meno di $ 200. Una TV 43Q60T simile costa $ 530. Il risultato è che paghiamo $ 1.400 per un supporto in plastica, altoparlanti e un motore che accende la TV. Quanto costa, ovviamente sì, è molto, il costo della TV è troppo caro di almeno $ 1000. Questo è il prezzo che gli acquirenti pagano per possedere un nuovo prodotto. Il costo della TV entro la fine dell'anno diminuirà di $ 500-700. E possiamo supporre che il prezzo della TV sarà di circa $ 1000.
Come funziona Sero TV
Dopo aver acceso la TV, se è stata scelta la modalità di visualizzazione dello smartphone. Ti verrà richiesto di scaricare il programma dall'App Store Android o dall'App Store. Scansiona il codice QR e installa l'applicazione SmartThing. Successivamente, puoi provare come la TV risponde alla posizione dello smartphone.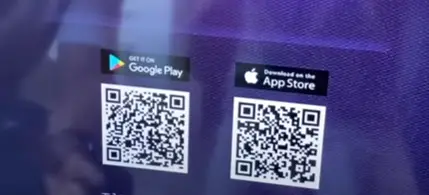 Perché Samsung ha offerto a The Sero solo 43 pollici
Il Sero è un fattore di forma sperimentale per la TV. Samsung ha deciso di vedere come il mercato reagirà alla comparsa di tale TV. In caso di vendite di successo, è possibile un'estensione delle offerte. Ma dobbiamo anche tener conto del fatto che più grande è la TV, più massiccio deve essere realizzato lo stand. Ciò può causare alcune difficoltà.
Confronto delle specifiche tecniche di The Sero con altri televisori Samsung QLED
|   | Q90T | Q80T | Q70T | Q60T | The Sero |
| --- | --- | --- | --- | --- | --- |
| | | | | | |
| screen | | | | | |
| Screen Size | 55, 65, 75, 85 | 49, 55, 65, 75, 85 | 55, 65, 75, 85 | 43, 50, 55, 58, 65, 75, 85 | 43 |
| Style | Flat Panel | Flat Panel | Flat Panel | Flat Panel | Flat Panel |
| Resolution | 3,840 x 2,160 | 3,840 x 2,160 | 3,840 x 2,160 | 3,840 x 2,160 | 3,840 x 2,160 |
| screen bit | 10bit | 10bit (8 bit+FRC) | 10bit (8 bit + FRC) | 10bit (8bit+FRC) | 10bit (8bit+FRC) |
| type screnn | Quantum Dot | Quantum Dot Dual LED | Quantum Dot | Quantum Dot | Quantum Dot |
| screen technology | VA | VA | VA | VA | VA |
| Backlighting | Direct Full Array 16X | Direct Full Array 8x | Dual LED Edge LED | EDGE Led (Dual LED) | EDGE Led |
| Dimming Technology | Ultimate UHD Dimming pro | Supreme UHD Dimming | Supreme UHD Dimming | Supreme UHD Dimming | Supreme UHD Dimming |
| Stand Type (Color) | Bending Plate (Titan Black) | TITAN BLACK | Slim Feet (Black) | Titan Gray | PLATE STAND |
| Bezel Width | Slim | 3 Bezel-less | Slim | Slim | |
| Video | | | | | |
| Motion Rate | 240 | 240 (49' 120) | 240 | 120 | 120 |
| refresh rate | 120 | 120 (49' 60) | 120 | 60 | 60 |
| Color | 100% Color Volume with Quantum Dot | 100% Color Volume with Quantum Dot | 100% Color Volume with Quantum Dot | 100% Color Volume with Quantum Dot | 100% Color Volume with Quantum Dot |
| HDR (High-Dynamic Range) | Quantum HDR 16x | Quantum HDR 12X | Quantum HDR | Quantum HDR | Quantum HDR |
| Picture Engine | Quantum Processor 4K | Quantum Processor 4K | Quantum Processor 4K | Quantum Processor 4K Lite | Quantum Processor 4K Lite |
| Audio | | | | | |
| Dolby | Yes | Yes | Yes | Yes | Yes |
| Sound Output | 60W | 60W (49' 40W) | 20W | 20W | 60W |
| Woofer | Yes | Yes | No | No | Yes |
| Speaker Type | 4.2.2 CH | 2.2.2 CH (49' 2.2. CH) | 2.0CH | 2.0CH | 4.1CH |
| Object Tracking Sound | Yes | Yes | No | No | No |
| Q-Symphony | Yes | Yes | No | No | No |
| Active Voice Amplifier | Yes | Yes | Yes | Yes | Yes |
| Multiroom Link | Yes | Yes | Yes | Yes | Yes |
| Features | | | | | |
| OS | Tizen 5.5 | Tizen 5.5 | Tizen 5.5 | Tizen 5.5 | Tizen 5.5 |
| Wi-Fi | Yes WiFi 5 | Yes WiFi 5 | Yes WiFi 5 | Yes WiFi 5 | Yes WiFi 5 |
| Bluetooth | Yes (ver.4.2) | Yes (ver.4.2) | Yes (ver.4.2) | Yes (ver.4.2) | Yes (ver.4.2) |
| Smart Hub | Yes (incl. Sports, Music and TV Plus) | Yes (incl. Sports, Music and TV Plus) | Yes (incl. Sports, Music and TV Plus) | Yes (incl. Universal Guide and TV Plus) | Yes (incl. Universal Guide and TV Plus) |
| Bixby | Yes | Yes | Yes | Yes | Yes |
| Digital Clean View | Yes | Yes | Yes | Yes | Yes |
| Ultra Black | No | No | No | No | No |
| ConnectShare | Yes | Yes | Yes | Yes | Yes |
| Closed Captioning | Yes | Yes | Yes | Yes | Yes |
| Game Mode | Yes (Real Game Enhancer+) | Yes (Real Game Enhancer+) | Yes (Real Game Enhancer+) | Yes | Yes |
| Eco Sensor | Yes | Yes | Yes | Yes | Yes |
| Mobile to TV - Mirroring, DLNA | Yes | Yes | Yes | Yes | Yes |
| Google Assistant | Yes | Yes | Yes | Yes | Yes |
| Alexa | Yes | Yes | Yes | Yes | Yes |
| Auto Channel Search | Yes | Yes | Yes | Yes | Yes |
| InstaPort S (HDMI Quick Switch) | Yes | Yes | Yes | Yes | No |
| Channel Guide | Yes | Yes | Yes | Yes | Yes |
| Ambient Mode | Yes | Yes | Yes | Yes | Yes |
| Auto Power Off | Yes | Yes | Yes | Yes | Yes |
| AI Technology | ? | ? | ? | ? | ? |
| Apps Platform | Smart TV with Bixby Voice, Apps and Full Web Browser | Smart TV with Bixby Voice, Apps and Full Web Browser | Smart TV with Bixby Voice, Apps and Full Web Browser | Smart TV with Bixby Voice, Apps and Full Web Browser | Smart TV with Bixby Voice, Apps and Full Web Browser |
| Auto Motion Plus | Yes | Yes | Yes | Yes | No |
| Embedded POP | Yes | Yes | Yes | Yes | No |
| Anynet+ (HDMI-CEC) | Yes | Yes | Yes | Yes | Yes |
| V-Chip | Yes only US | Yes only US | Yes only US | Yes only US | Yes only US |
| TV to Mobile - Mirroring | Yes | Yes | Yes | Yes | Yes |
| USB HID Support | Yes | Yes | Yes | Yes | Yes |
| AI Upscale | Yes | Yes | No | No | No |
| Easy Pairing | No | No | No | No | No |
| Inputs & Outputs | | | | | |
| HDMI | 4 (3 ver.2.0, 1 ver 2.1) | 4 (3 ver.2.0, 1 ver 2.1) | 4 (3 ver.2.0, 1 ver 2.1) | 3 ver.2.0 | 3 ver.2.0 |
| USB | 2 (ver.2.0) | 2 (ver.2.0) | 2 (ver.2.0) | 2 (ver.2.0) | 2 (ver.2.0) |
| Ethernet | Yes | Yes | Yes | Yes | Yes |
| RF In (Terrestrial/Cable | Yes | Yes | Yes | Yes | Yes |
| RF In (Satellite Input) | Yes Europe, No US | No US, Yes Europe | No US, Yes Europe | No US, Yes Europe | No US, Yes Europe |
| Digital Audio Out (Optical) | Yes | Yes | Yes | Yes | No |
| Audio Return Channel Support | Yes | Yes | Yes | Yes | Yes |
| eARC | Yes | Yes | Yes | Yes | Yes |
| One Connect | No | No | No | No | No |
| Samsung OneRemote | Yes | Yes | Yes | Yes | Yes |
| System | | | | | |
| Digital Broadcasting | ATSC/ClearQAM US, DVB Europe | ATSC/ClearQAM US, DVB Europe | ATSC/ClearQAM US, DVB Europe | ATSC/ClearQAM US, DVB Europe | ATSC/ClearQAM US, DVB Europe |
| Analog Tuner | Yes | Yes | Yes | Yes | Yes |
| Accessories | | | | | |
| Remote control | TM2050C | TM2050C | TM2050C | TM2050C | TM2050A |